How does one find peace in our chaotic world? The answer lies within.
Thanks for reading this week! Today I wanted to talk about finding peace and strength within yourself. My wonderful soon to be sister-in-law Joanna shares her story with you on her journey toward managing anxiety through yoga and meditation. Whether you deal with anxiety on a daily basis or have only experienced anxiety from time to time, I definitely think you'll be able to relate to her story. And if you've never tried yoga or meditation, I HIGHLY recommend it. I included links to my favorite yoga & meditation media at the very end of this page. Comment below or message me so we can talk more about this and lift each other up!
PEACE.
As I sit here and write this, I never thought it would be what fuels my life and helps me with my anxiety. Ask me the same question 10 years ago, even 5 years! I would have answered you right there that what helps me with my anxiety is buying and doing things to distract myself from the every day. I would have said that it was easier to cover up the buzzing in my head with things that make me feel happier, but only for a moment or two. However, that brief glimpse of happiness was extremely costly. The more I indulged in it, the less happy I was and the less peace I had in my life. The journey to overcoming anxiety has taken a lot of reflection on my part. I have been struggling with it my entire life and still do. I still have good days and bad days where I feel like I get sucked into this cycle of self-pity. No one told me that yoga was going to be not only extremely emotionally investing, but also the most rewarding tool for me to overcome anxiety. I can now, with the help of yoga and meditation, move past those moments both big and small and define my inner peace.
Minimalism
I began my journey of self-motivation and realization a couple of years ago when overcoming a milestone in my life. The idea of yoga was just a passing thought at the time. While browsing YouTube for something that would help me heal and push me past some of the darkness in my life, I discovered minimalism. I quickly came to find that minimalism was a way for me to truly connect and get in touch with myself. It was a way of letting go of the physical clutter as well as the spiritual clutter in my mind. It forced me to look after myself and my body, not the physical stuff that I filled my life with.
Letting go of "things"
I realized that I cared more for the upkeep of my personal items than I did for myself, both in body and mind. I needed to purge the emotional attachment to physical things and open up my mind to healing from anxiety. The more I let go of those things, the more I realized I was revealing my inner turmoil. I had no tools at the time to cope with the raw anxiety left out in the open, and I did not want to take the time to work on myself because that was harder for me than looking after my knickknacks. The hunt for more information about minimalism helped me find yoga. I had access to videos of thousands of other people with similar situations and experiences with anxiety in their lives. They were successful in using yoga as a tool to cope with their inner struggle for peace; peace as a result of living with oneself and focusing on oneself without distractions, limitations, or the negativity of everyday life. I decided that it was something I would finally do for myself.
Focusing on the present moment
I got a glimpse of the peace that I had striven for on my way home from my 1st yoga class a little over 2 years ago. As soon as I got in the car, I quickly realized that I was thinking of nothing! The buzzing sounds, the background noise, the anxiety in my chest and the constant inner dialogue were all gone. I had forgotten how it felt to smile from deep down inside about absolutely nothing. It was a short-lived glimpse, but nevertheless it happened. Not two seconds later, I had my first thought about what needed to get done at home; but overall the rest of my day was calmer and more even tempered in my mind. More and more, I have come to realize that yoga is a way to get past the surface grime built up on my soul. Once I start to move my body and engage my breath, I feel my body and only that. I no longer focus on the things around me and become aware of the things that are important now. Not in the future, not tomorrow, not yesterday, now!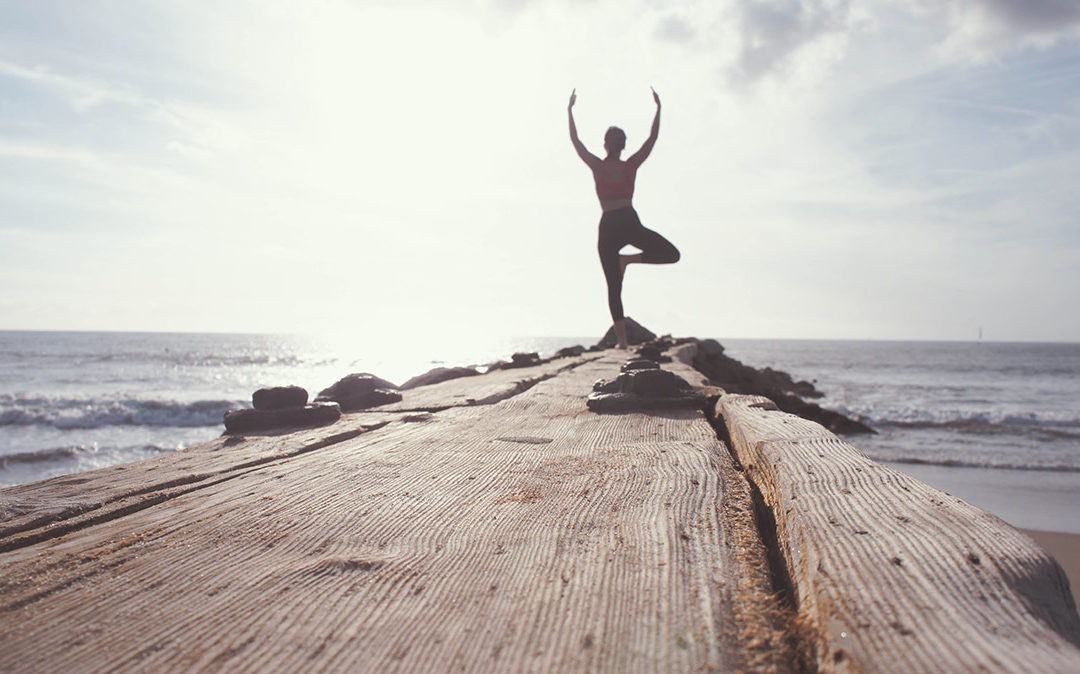 Managing anxiety takes effort
I have come to terms with the fact that this will still be a work in progress, but I now feel that I have the tools to work through my anxiety. Now I always look forward to my momentary glimpses of peace.
________________________________________________________________
Joanna's favorite YouTube yoga channel:
YogaTX – I love her energy and insight into the poses and she does a good job providing modifications
Diana's favorite YouTube yoga channel:
Yoga with Adriene – I love her positivity and message. Every time I do one of her yoga videos I feel instantly less stressed out.
Joanna's favorite meditation app:
Headspace – Free to use and gives you a 10 day beginner's course. Can keep using basic version for free or pay $95.88 for unlimited access subscription.
Diana's favorite meditation app:
Calm – Try 7 days for free, then keep basic version free or upgrade to Calm Premium for $59.99/year – this is the best value. I use it I felt like it was a lot of $$ at first for an app but it's worth it. It helped me get my life back on track when I was at my most depressed